My name is Krzysztof Sondej
I love to fly, to take up challenges and to make dreams come true – not only my dreams.
Instead of complaining – I study, look for solutions, try, inspire, act and create.
I am impressed by the truth and professionalism, therefore "slowly, but persistently, I am striving for perfection". Humility, sincerity, honesty, respect for another human being - these are my next life direction signs.
I come from Kijewo Królewskie – small village, where I attended primary school and when I finished it, I continued my education in Liceum Ogólnokształcące im. M. Kopernika in Chełmno. When I received my matriculation certificate, I scared my parents, because I went to "the end of the world", means to Rzeszów, to study at the local polytechnic. I chose this university, because at that time it was the only civil college with an aviation department and a "pilotage" specialty. And I wanted to be a pilot, so ...
I remember my ups and downs during studying not only as the time of reading books, in which the main characters were men X, Y and Z, learning and taking exams, but also as a time of specific "lessons of life." Being student I learned, among other things, perseverance and consistency, when after a failed test or exam, I repeated in my head "until the dean of faculty throws me out, I will not give up myself ..." and marched for the next try, passed next semester, passed another year.
At the Ośrodek Kształcenia Lotniczego in Jasionka, I was taught extreme patience by a simulator, which literally broke down every moment, resulting in a terribly prolonged IFR / ME training. Fortunately, after many weeks of simulator flying, I finally got to a real plane called "Mewa", I made the necessary training flights, passed the theoretical and practical exams, thus ending the Politechnika Rzeszowska as Master of Science and professional airplane pilot.
Yes, I was proud of myself, I was extremely happy that I realized my dream, so I sent my CV to air companies all over the world. A lot more than 100 sent emails (natural curiosity - in Kijewo Królewskie in 2002 there was "already" internet available thanks to Neostrada), I received 2 answers, which unfortunately were not optimistic ... I registered in the job office as unemployed, but fortunately I did not drain taxpayers' pocket, because I started to work at the airport in Bydgoszcz as a airport duty officer. Ground work, but fortunately associated with aviation, so not so bad ... After less than three years of taking care of safety of flight operations at the Bydgoszcz airport, I received "this phone" - a colleague I studied with called me and said he needs someone to fly "now". My decision could be only one, so after a few days I was in Krakow and signed my first employment contract as a "pilot". At that time good and even very good times for the aviation industry came and after a few months I received one, two and another job offer, in the airlines, on large airliners. I chose Eurolot, but there was one more option - flying on the Cessna 560XL business aircraft. After a few sleepless nights, I resigned from Eurolot and flew to the USA, where I completed C560XL type rating. I worked on it for almost three years, after which I came to Jet Service, which changed its name to Blue Jet, and now it is called Jet Story and I work here till today - currently on the Challenger 300 airplane. European and American airline license give me the opportunity to pilot each civilian aircraft, after "type rating training" for a specific type. I have the honor and pleasure to fly with exceptional passengers, including presidents, kings, princesses and princes, businessmen, sports, music and film stars. Captain's duties are many, and the responsibility is significant, so I am very happy when the disembarking passenger says: "Thank you for a safe and pleasant flight." These are, of course, the words of appreciation for all my colleagues and crew members, as well as for a large group of people working on the ground. I have visited many countries, many cities and plenty of airports, I have fantastic "over the desk" views while working, I cooperate with a great crew on board and on the ground, so ... I just like this job!
My second profession is a "sport manager", and I received my diploma after completing the relevant course and passing the exam at Polish Sports Academy in Warsaw. It was the beginning of my cooperation with the Aeroclub of Poland and also with the Polish National Flying Team, and many athletes of other aviation disciplines - Polish champions, European champions, world champions and World Air Games masters. In short - with the Legends of Polish and at the same time global air sport. Some time ago, as the owner of Air Sports Promotion, I initiated the nationwide aviation plebiscite called CUMULUSY and I undertake many other activities to promote air sports and aviation in general, especially Polish.
I like widening horizons, so I finished "artist manager" course at EMTG in Warsaw too.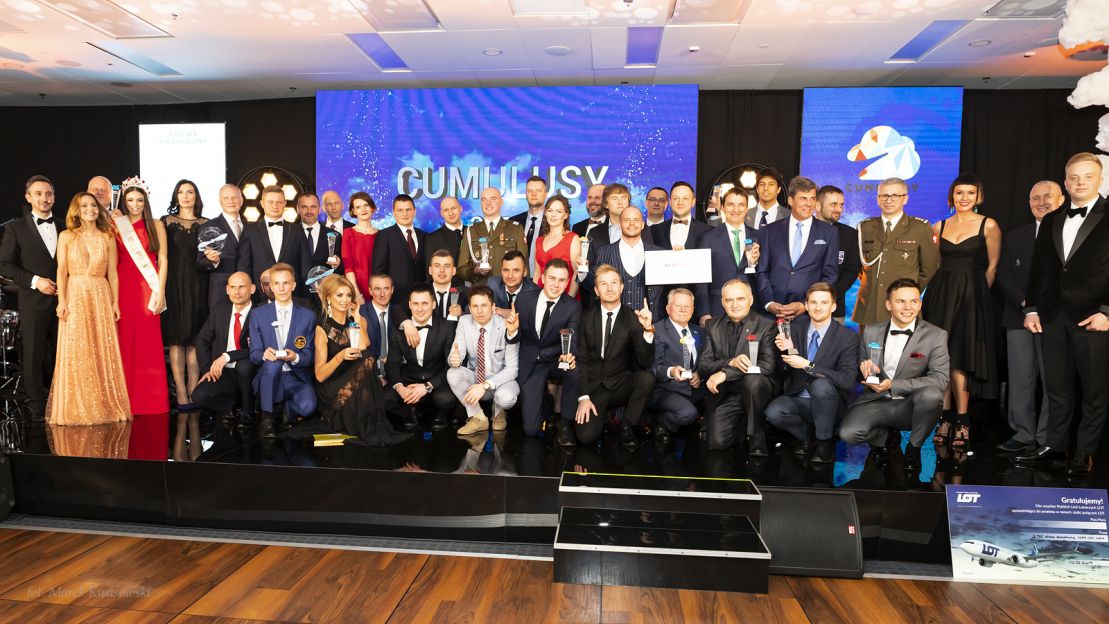 Privately - well, thanks to my Mom and Dad, I appeared in this world, so the first and biggest "thank you for everything" goes to them. Sister Basia, grandmothers, grandparents, aunts, uncles, cousins - next words of gratitude go to them. We are almost 40 people, so on the name-day it's really fun;) I love bitter chocolate, grapefruit juice and carrot juice. I do not drink coffee or alcohol, cigarettes also may not exist for me ... I like the Italian language and I hope to use it freely soon. I believe we should train the body, mind and soul, so I undertake activities that serve this purpose. My middle name is "peace" and the third is "patience". Truth, humbleness, honesty, respect for other people - these are my life direction signs. For 6 years I've played accordion in elementary school, I like many different styles of music, but there are also days when I listen to silence the most. I am interested in everything that is related to marketing, promotion and sports and artistic management, so I improve related competences. With big respect for all other athletes, I support every Polish athlete the most, and formerly I played a lot of table tennis, volleyball, basketball and football.